Composite hoses are made from multiple tight-wound polypropylene films and fabrics,reinforced with inner and outer spiral wire helix's. Films and fabrics are protected and covered by an outer layer of abrasion resistant PVC coated fabric. The PVC covers are distinctively colored for identification. The inner wire provides structural support and crush resistance. The outer wire provides the structural integrity of the hose. The inner wire helix is either galvanized mild steel, stainless steel, aluminum or Polypropylene coated steel depending on application. The outer wire helix is either galvanized mild steel, stainless steel or aluminum.
Fittings
The Fittings are attached by external swaging methods and sealed with a 2 component epoxy and hardener.

Test Methods
Each Composite Hose is individually hydrostatically pressure tested prior to shipment at one and a half times its working pressure and uniquely serialized with its own test test number and certificate.

Electrical Continuity
Both inner and outer wires are connected to each end and tested for electrical continuity.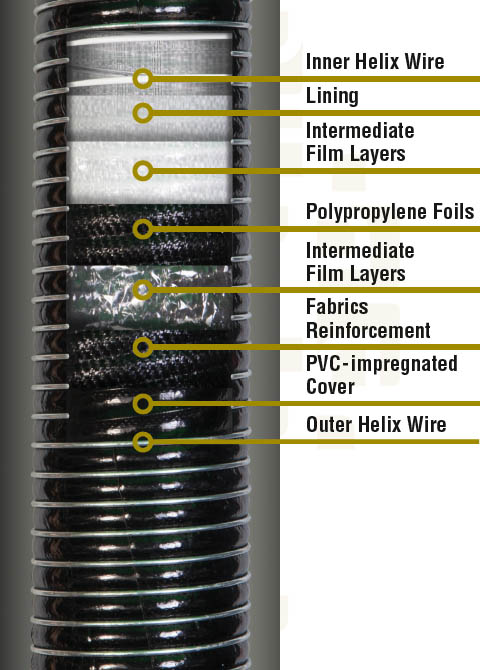 Legal disclaimer
All brand names are registered trademarks and are not owned nor represented by CoRuFlex International. These trademarks and all
other information are used for clear indication and informational purposes only and are the property of their respective owners.