CoRuFlex Composite Hoses BV offers a wide range of Composite Hoses for a variety of liquid transportation of petroleum products and chemicals = (minerals, acids, petrol products, gases, water and vapor recovery).
The hoses are designed for a range of applications and among others deployed in the widest possible scope. Composite Hoses are compared to rubber and metal hoses light weight and flexible for easier handling. Flexibility is retained at low and even cryogenic temperatures. The multi layer construction prevents catastrophic failure and the hoses are protected from corrosion and attack by other liquids. And even protected against UV and Ozone.
The wide range covers a variety of liquid transportation ideal for heavy duty suction and discharge transfer products in road and rail tanker, dockside and ship to shore applications.
Composite Hoses comply with various international standards including EN 13675 and EN 13766. Heavyduty dock and barge hoses are approved to IMO Codes, ICG, BCH and IBC requirements.
The temperature range is -30°C to + 80°C. (PP lining ) and can even be up to 100°C ( PTFE lining ) Depending on the product that will be transported and the operational pressure.
A wide range of fittings can be supplied such as cam & grove, BSP/NPT fittings, flanges etc.
Other special couplings for unusual applications can also be supplied.
Specialized manufacturing process techniques assure the proper gauge and pitch of the inner and outer wires to ensure conformity and consistency.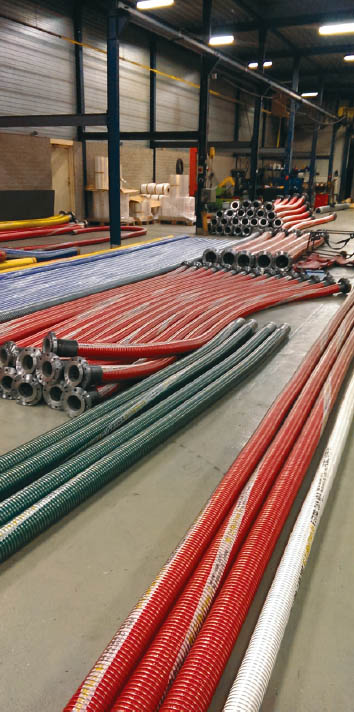 Legal disclaimer
All brand names are registered trademarks and are not owned nor represented by CoRuFlex International. These trademarks and all
other information are used for clear indication and informational purposes only and are the property of their respective owners.